This product is available in our stores
You can buy this product without placing an online order at one of our stores in your area. Check where the product is in stock.
Check availability
Product description
Nawozowe wapno kredowe odmiana 07a, granulowane. min. zawartość składników pokarmowych 40% tlenku wapnia, reaktywność 90%.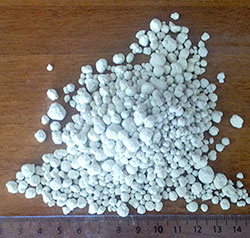 Zalety nawozu:
jest naturalnym źródłem skoncentrowanego węglanu wapnia pochodzenia osadowego

wykazuje wysoką reaktywność - szybko i bez skutków ubocznych odkwasza glebę, nie przesuszając jej

jest doskonałe do stosowania w rolnictwie i sadownictwie podnosząc plony

Zalecana dawka nawozu powinna być dobierana w zależności od odczynu PH i rodzaju gleby.
Zalety wapnowania:
poprawia strukturę gleby - nawapniona gleba lepiej oddycha, dostarcza więcej tlenku korzeniom i zapewnia (optymalny klimat) dla (dobrych mikroorganizmów)

wapno wspomaga działanie nawozów i uwalnia substancje odżywcze odłożone w glebie

wapno redukuje przyswajanie przez roślinę szkodliwych metali ciężkich

wapnowanie użytków zielonych powoduje wzrost minerałów w roślinach i wzbogacenia pożywienia zwierząt hodowlanych
Można go stosować w różnych porach roku!
Dawkowanie:
350 - 500 kg/ha